Questions
You have questions, don't worry we're here for you. From tech stuff to how we support our community, below you'll find questions and answers to help you.

If you don't find the answer you're looking for check out our Help and Support Knowledgebase. Or get in touch, We'd love to hear from you. 
You can watch on your smartphone, tablet or laptop or on a smart TV by using Chromecast or AirPlay. For the best viewing experience, we recommend using the most updated version of Google Chrome as your browser.
What events are shown live on TTE.TV?
The major events shown on TTE.TV are:
Mark Bates Ltd National Championships (three age groups, plus senior qualifying tournament)
Every Senior British League, Premier Division fixture
SBL Championship Division (five weekends per season)
England home matches
Selected international events
What else can I watch on TTE.TV?
Any events which are shown live can be watched on-demand later.
Our Rewind shows, made up of highlights from major events, are available on demand in the days following the events.
The TT Insider series provides unique interviews, stories and behind-the-scenes insights.
Explainer videos outline the formats of popular competitions.
Can I watch on more than one device?
Only if you have more than one account. If you want to follow multiple events happening at the same time, please use multiple tabs on the same browser.

How much does it cost to become a subscriber?
Access to TTE.TV is included in the cost of Table Tennis England membership. All you have to do is link your membership to your TTE.TV account to enjoy free access.
If you are not a member, you can still enjoy all the action with season-long access for £39.99.
You can also pay monthly at £3.99, or choose to watch on a pay-per-view basis, with matches all individually priced. You can use all major debit and credit cards in every country. It is also possible to use Google Pay.
How do I link my Table Tennis England membership to TTE.TV?
The next time you visit TTE.TV, you will be prompted to link your account to your membership. Simply click on the box to get started, follow the instructions and then sign in to the Sport80 membership platform to complete the link. You can also link your account at any time while logged in to TTE.TV, by clicking on the 'your account' icon in the top right of the page and choosing the 'TTE Membership' option.
I'm not a member of Table Tennis England - how do I set up a TTE.TV account?
Visit TTE.TV and click on the 'sign in' button in the top right. The select "New user? Create an account". You can then choose to sign up using your Facebook account, your Google account, or with an email address and password.
You will need to agree to the Joymo terms and conditions before completing your sign-up.
After the account is created, you can select to subscribe yearly or monthly to the platform, or purchase a one-off ticket to view a match.
How do I become a Table Tennis England member?
I forgot my password / I want to change my password – what do I do?
If you have been logged out of your account, and can't remember your password, you can reset the password to get access again. Go to Sign in with email, click on "forgot password" and enter the email address you use to subscribe. You will receive a reset link via email to set up a new password.
I am getting a 404 error code when trying to load TTE.TV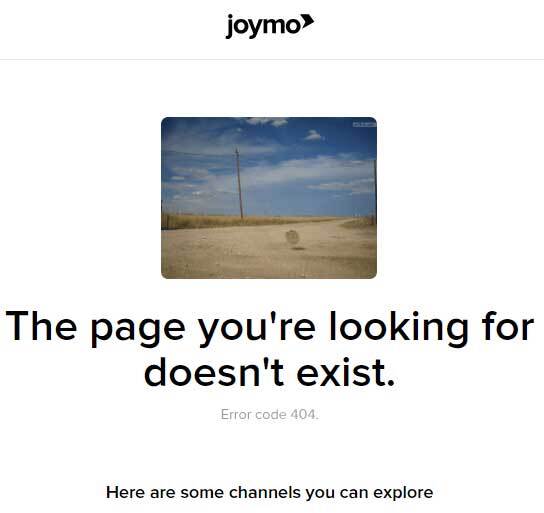 If you see this image when trying to access TTE.TV, there may be an ad blocker or Proxy/VPN blocking some of the connections. Turning off these applications may resolve the issue.
If you are still not successful in loading the page, please run this test: https://debug-my.firebaseapp.com/ and send the result to support@joymo.tv